By Pershelle Rohrer
November 3, 2019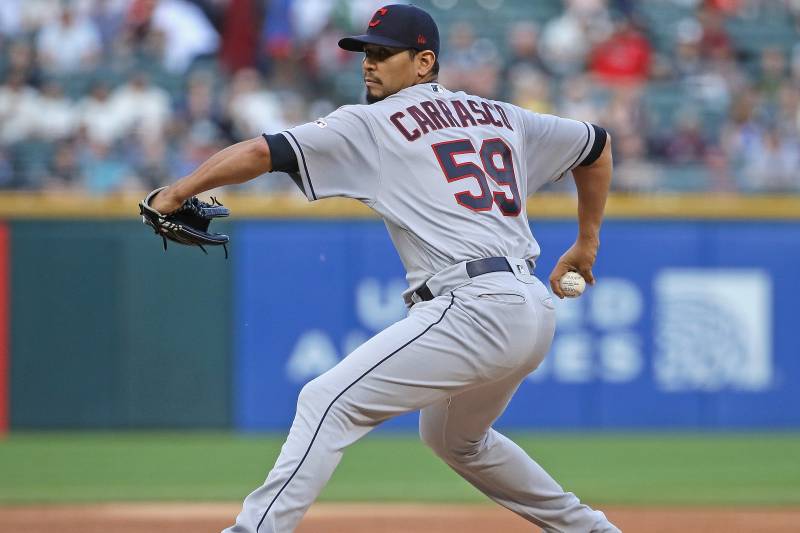 Pershelle Rohrer is a first-year BGSU student from Logan, Utah. She is a Sport Management major with a minor in Journalism. Her primary sports interests are football, basketball, and baseball, both at the professional and collegiate levels.
Cleveland Indians pitcher Carlos Carrasco was selected as the winner of the Roberto Clemente Award on Friday, October 26. The award is given annually to the player who "best represents the game of baseball through extraordinary character, community involvement, philanthropy and positive contributions, both on and off the field" ("VOTE: Balloting underway," 2019, para. 1). Carrasco was presented with the award before game 3 of the World Series in Washington, D.C. He is the third Indians player to win the award, joining Jim Thome (2002) and Andre Thornton (1979).
Carrasco was diagnosed with leukemia in late June and missed over three months of the season while receiving treatments. However, that did not stop him from making positive contributions to the community, both in the United States and around the world. He provided box lunches to the homeless in Tampa, Florida during the offseason, awarded scholarships to single mothers, traveled to Africa to distribute clothing and school supplies, and donated toys and money to his native country of Venezuela (Axisa, 2019). He also visited cancer patients in hospitals, even as he was undergoing his own treatments, and "received the 2018 MedWish Humanitarian Award," along with his wife, Karry, in November 2018 (Noga, 2019, para. 8). His contributions to the community led to his fifth-straight nomination from the Indians and his ultimate selection for the Clemente award.
Each team nominated one player for the award in September, and they were recognized on Roberto Clemente Day on September 18 ("VOTE: Balloting underway," 2019). The selection process occurred through a panel that included MLB Commissioner Rob Manfred; media members from MLB Network, FOX Sports, ESPN, TBS, and MLB.com; and Vera Clemente, Roberto Clemente's widow. A fan vote took place through September 29 and counted as one vote cast alongside the panel.
Carrasco's selection is viewed highly by the media. Media members select the winner of the Clemente Award and saw his contributions as meeting the criteria for representing Clemente and his own philanthropy. Roberto Clemente was a 15-time All-Star who was killed in a plane crash on New Year's Eve 1972 while delivering supplies to earthquake victims in Nicaragua. Originally called the "Commissioner's Award," the accolade was created in 1971 and renamed in Clemente's honor in 1973 (Justice, 2019).
Carrasco began his career with the Philadelphia Phillies. When he was a player there, Sal Artiaga, Philadelphia's director of Latin American operations, told Carrasco, "You could be Clemente" (Brown, 2019, para. 11). Carrasco's selflessness followed him to Cleveland when he was traded there in 2009, and he continued his involvement in the community through hospital visits, autograph signings, helping veterans, and giving to the underprivileged. Tim Brown (2019), who writes for Yahoo Sports, shows the impact of Carrasco through the headline of one article: "In a world with many problems, it also has selfless people like Carlos Carrasco."
One of Carrasco's sayings regarding his cancer diagnosis is "I may have cancer, but cancer doesn't have me" (Carrasco, 2019, para. 47). He wants people to see that they can rise above their circumstances and defeat any problems they may be facing.
Carrasco returned to the mound on September 3 and pitched as a reliever for the remainder of the 2019 season. His goal is to be ready for spring training in early 2020.
References
Axisa, M. (2019, October 25). Indians' Carlos Carrasco wins 2019 Roberto Clemente Award. CBSSports.com. Retrieved from https://www.cbssports.com/mlb/news/indians-carlos-carrasco-wins-2019-roberto-clemente-award/
Brown, T. (2019, October 25). In a world with many problems, it also has selfless people like Carlos Carrasco. Yahoo Sports. Retrieved from https://sports.yahoo.com/in-a-world-with-many-problems-it-also-has-selfless-people-like-carlos-carrasco-185646178.html
Carrasco, C. (2019, September 27). I may have cancer, but cancer doesn't have me. The Players' Tribune. Retrieved from https://www.theplayerstribune.com/en-us/articles/carlos-carrasco-cleveland-indians
Indians' Carlos Carrasco honored with Roberto Clemente Award. (2019, October 25). ESPN.com. Retrieved from https://www.espn.com/mlb/story/_/id/27927326/indians-carlos-carrasco-honored-roberto-clemente-award
Justice, C. (2019, September 12). Indians pitcher Carlos Carrasco nominated for Roberto Clemente Award. news5Cleveland.com. Retrieved from https://www.news5cleveland.com/sports/baseball/indians/indians-pitcher-carlos-carrasco-nominated-for-roberto-clemente-award
Noga, J. (2019, September 12). Carlos Carrasco earns fifth straight Cleveland Indians nomination for MLB's Roberto Clemente Award. Cleveland.com. Retrieved from https://www.cleveland.com/tribe/2019/09/carlos-carrasco-earns-fifth-straight-cleveland-indians-nomination-for-mlbs-roberto-clemente-award.html
VOTE: Balloting underway for Clemente Award. (2019, September 12). MLB.com. Retrieved from https://www.mlb.com/news/2019-clemente-award-vote-nominees-announced