By Pershelle Rohrer
July 9, 2020
Pershelle Rohrer is a second-year BGSU student from Logan, Utah. She is a Sport Management major with a minor in Journalism. Her primary sports interests are football, basketball, and baseball, both at the professional and collegiate levels.
Cup Series driver Bubba Wallace has been thrust into the national spotlight over the last month after becoming the face of NASCAR's push for racial equality. In recent weeks, he has successfully called for the ban of Confederate flags at racetracks, supported the Black Lives Matter movement with a shirt and paint scheme dedicated to the cause, and received a powerful display of support from his fellow drivers after an alleged noose was discovered in his garage stall at Talladega on June 21. He also received widespread support following criticism from U.S. President Donald Trump.
Wallace, NASCAR's only current Black driver, was inspired to speak up after reading about potential new fans being turned off by the display of the Confederate flag at racetracks. According to James Doubek (2020), the tipping point for Wallace was the death of Ahmaud Arbery, a Georgia man who was fatally shot while jogging in February.
Wallace told NPR on June 12, "It shook me to the core to a point where it kind of flipped a light switch inside of me" (Doubek, 2020, para. 7).
NASCAR has a long history involving the Confederate flag. A sport with deep Southern roots, NASCAR was founded by Bill France Sr. in 1948, and the Cup Series began in 1949 (Kelly, 2020). Most races were in the South in the sport's early days. Drivers had the Confederate flag displayed on their cars from the beginning. Frank "Rebel" Mundy had the flag painted on the side of his Hudson Hornet in the early 1950s, according to NASCAR historian Buz McKim (Kelly, 2020). Darlington Raceway had a tradition involving "Johnny Reb" that began in the track's early days. Godwin Kelly (2020) writes, "One of Darlington's early traditions was 'Johnny Reb,' who was a man dressed in a Confederate soldier's uniform and carrying a Confederate flag on a pole. The race winner would wait for 'Johnny Reb' to get on the hood of his car then head to Victory Lane. The character would proudly wave the flag during the short ride" (paras. 11-12). The "Johnny Reb" tradition was dropped before the 1980s.
NASCAR began to push back against Confederate traditions in the 1980s. Henley Gray was forced to paint over the roof of his car, which was decorated with a Confederate flag, because "NASCAR would not let him run with it," according to McKim (Kelly, 2020, para. 18). Following the Charleston, S.C. church shooting that claimed the lives of nine Black churchgoers in 2015, the sport asked fans to stop bringing the Confederate flag to races. Widely circulated photos of the shooter posing with the flag led to NASCAR issuing this request, according to Maria Cramer (2020).
Despite NASCAR's request, fans continued to bring Confederate flags to the racetrack. During the 2015 Fourth of July race weekend, Daytona International Speedway started a swap program, allowing fans to trade in their Confederate flags for American flags (Kelly, 2020). Juliet Macur (2020) writes, "Few fans took them up on the offer, and NASCAR continued struggling to balance a new demographic of fans beyond the white and conservative Southern ones that helped NASCAR grow into a powerhouse industry in the early to mid-2000s" (para. 10).
Following the death of George Floyd in police custody in May, the Black Lives Matter movement took off nationwide. BBC News writes, "The movement has sparked a campaign to remove symbols associated with slavery, imperialism and the Confederacy" ("Bubba Wallace: Nascar," 2020, para. 6). Bubba Wallace called for an outright ban of the flag at racetracks on June 8, saying that the fans should feel comfortable coming to races. 
Wallace told CNN's Don Lemon, "No one should feel uncomfortable when they come to a NASCAR race. So it starts with Confederate flags. Get them out of here. They have no place for them" (Cramer, 2020, para. 4).
NASCAR banned the flag from its events and properties on June 10. In part, the statement says, "The presence of the Confederate flag at NASCAR events runs contrary to our commitment to providing a welcoming and inclusive environment" ("Bubba Wallace praises," 2020, para. 3).
Wallace responded, saying, "Props to NASCAR and everybody involved. It creates doors and allows the community to come together as one" ("Bubba Wallace praises," 2020, para. 4).
Seven-time NASCAR champion Jimmie Johnson also praised the move, stating that they belong in the history books instead of the racetrack. "I know some want to make it political. In all these injustices and inequalities that exist, to me it's kind of simple if we start with being kind first . . . I think they have a place in history, and we need to keep them in the history books and not have them flying in the sky at the racetracks," he said ("Bubba Wallace praises," 2020, paras. 11-13).
Kyle Petty, longtime racer and son of the seven-time champion Richard Petty called it "a huge moment" (Macur, 2020, para. 12), saying on NBCSN's 'NASCAR America', "As we look at the sport and how the sport has grown, we were way behind the curve" (para. 13).
Some fans and drivers were upset with the decision, citing the flag's ties to racing culture. Ray Ciccarelli, who drives part-time in the Gander RV & Outdoors Truck Series, voiced his intention to leave the sport after this season in a Facebook post following NASCAR's decision (Fernandez, 2020). During the race weekend at Talladega Superspeedway, fans drove by the track with Confederate flags in reaction to its ban from NASCAR facilities, and a plane flew a banner of the flag with the words "Defund NASCAR" (Fryer, 2020).
Wallace wore a shirt that said "I can't breathe," the plea spoken repeatedly by George Floyd as a police officer knelt on his neck, followed by the words "Black Lives Matter" ahead of the June 7 race at Atlanta (Doubek, 2020). He wore the same shirt at Martinsville on June 10, this time sporting a car with a special Black Lives Matter paint scheme on it (Gartland, 2020). The car had #BlackLivesMatter over the rear wheel, Black and white hands interlocking on the hood, the words "Compassion, Love, Understanding" on the back bumper and hood, and a peace sign decorated with different colored hands underneath the Black Lives Matter hashtag (Gartland, 2020).
In a video posted to the Twitter page of Wallace's racing team, Richard Petty Motorsports, Wallace said, "We knew that the Martinsville race was open—we did not sell a sponsorship for that—and it sparked an idea of, why not run a blackout car? Our team brought that idea to me and I jumped all over it. … Why not dive in straight to the root and put #BlackLivesMatter on the car?" (Gartland, 2020, para. 4).
Before the Martinsville race, Wallace spoke about what Black Lives Matter means to him. "I haven't really slept much thinking about this race — everything that's going into it and everything going on in the world. Trying to race to change the world here. It's not that we're saying no other lives matter. We're trying to say that black lives matter, too," he said ("Bubba Wallace praises," 2020, para. 2).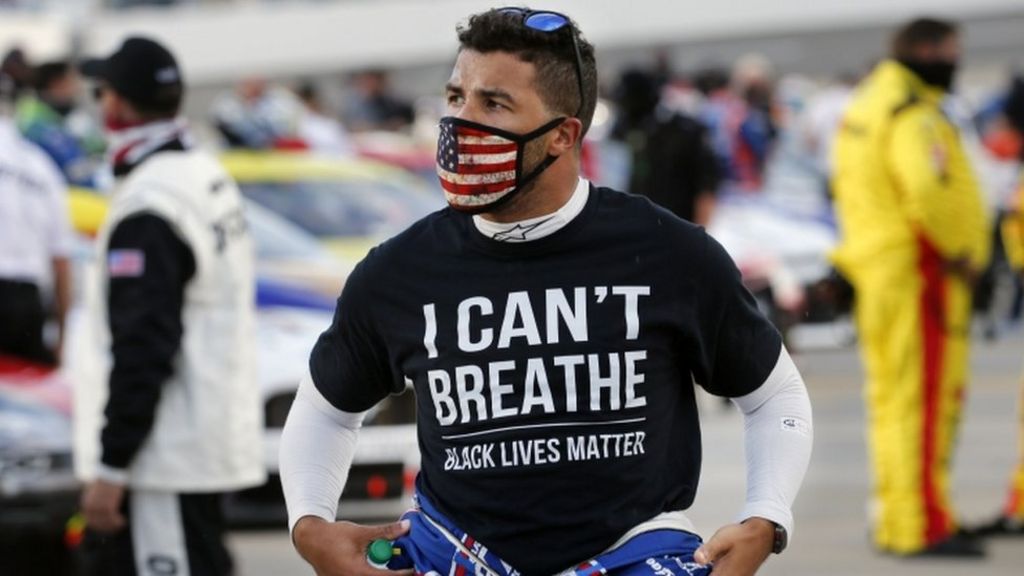 Many athletes, including LeBron James, Alvin Kamara, and Bernard Pollard Jr, expressed their support for Wallace. Kamara attended his first NASCAR race at Homestead-Miami Speedway on June 14, wearing a Bubba Wallace shirt and hat. Sports Illustrated writer Dan Gartland wrote, "What makes Wallace's statement especially powerful is that it's not the safe thing to do" (Gartland, 2020, para. 5).
Gartland's sentiment proved to be a real concern just a week later. On June 21, an alleged noose was found in Wallace's garage stall at Talladega Superspeedway in Alabama (Bromberg, 2020). The noose was discovered by one of Wallace's crew members and reported to NASCAR. NASCAR President Steve Phelps informed Wallace about the noose and issued an FBI investigation (Fryer, 2020). Phelps said that the individual who left the noose "will be banned from this sport for life" (para. 16).
Wallace received widespread support from current and former drivers, as well as other athletes, politicians, and sports analysts. He also released a statement following the discovery.
The June 21 race was postponed until the next day due to rain, leading to a powerful display of unity from NASCAR as Wallace's fellow drivers and their pit crews pushed his car to the front of the starting grid before the race. Joined by NASCAR legend Richard Petty, they stood with Wallace during the pre-race prayer and national anthem (Bromberg, 2020) while Brad Keselowski held the American flag during the display (Fryer, 2020). Wallace then took a selfie with everyone behind his car (Bromberg, 2020).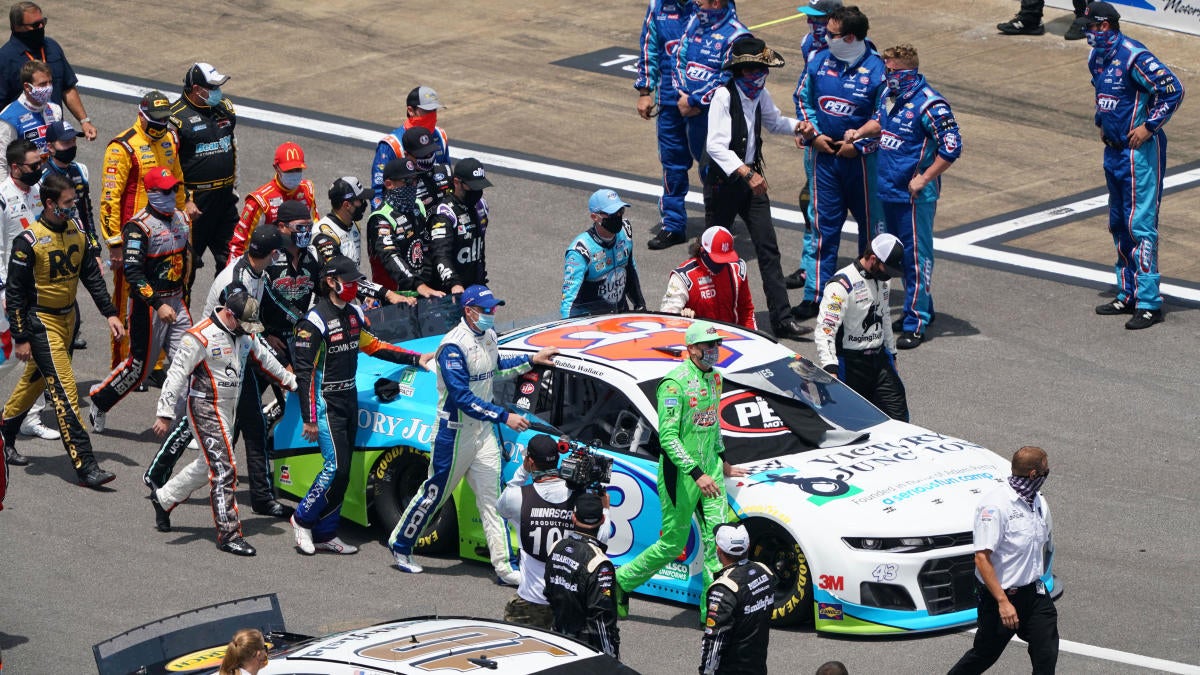 According to Wallace, Jimmie Johnson came up with the idea to stand with him for the anthem, and Kevin Harvick suggested pushing his car down pit road (Fryer, 2020). The hashtag #IStandWithBubba was also painted in white on the infield grass ("NASCAR stands with," 2020).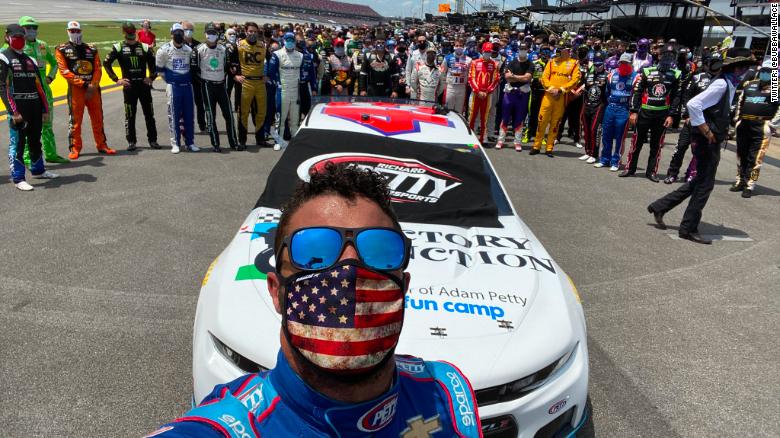 NASCAR (2020) tweeted a video of the display using the same hashtag and the word, "Together."
NASCAR executive vice president and chief racing development officer Steve O'Donnell (2020) reacted to the display, saying, "No words."
Wallace had a chance to race for the win, even leading for a time with under 30 laps to go, but a fuel shortage forced him to take a late pit stop. He received a push toward pit road from Corey LaJoie after running out of fuel, allowing him to ultimately finish 14th ("NASCAR stands with," 2020).
Wallace celebrated with a group of first-time fans, many of them wearing Black Lives Matter shirts, after the race (Fryer, 2020). While speaking to the media he apologized for not wearing a mask, explaining that he wanted to show the person who left the noose in his garage that "you are not going to take away my smile" (para. 10).
The FBI released the results of their investigation into the noose on June 23, determining that Wallace was not the victim of a hate crime and that the garage door pull fashioned like a noose had been in the garage since at least October 2019 ("FBI says rope, 2020). The results produced a variety of reactions. NASCAR released a statement, expressing relief that there "was not an intentional, racist act against Bubba" (para. 3), but Wallace received backlash from individuals who felt that he or his team planted the noose themselves (Rosenblatt, 2020).
In a June 24 interview with Craig Melvin on TODAY, Wallace said, "I was relieved just like many others to know that it wasn't targeted towards me. But it's still frustrating to know that people are always going to test you and always just going to try and debunk you and that's what I'm trying to wrap my head around now" (Rosenblatt, 2020, para. 2).
NASCAR released an image of the noose on June 25 following an internal investigation by the organization. Steve Phelps defended NASCAR's reaction while admitting that he could have worded his initial statement better. "Upon learning of seeing the noose, our initial reaction was to protect our driver. … In hindsight, we should have — I should have — used the word 'alleged' in our statement. … As you can see from the photo, the noose was real, as was our concern for Bubba. With similar emotion, others across our industry and our media stood up to defend the NASCAR family — our NASCAR family — because they are part of the NASCAR family too. We were proud to see so many stand up for what's right," he said ("NASCAR releases image," 2020, para. 4-5).
NASCAR doesn't typically receive much coverage on social media from accounts such as ESPN, but the sport received lots of attention throughout the investigation. ESPN's Instagram account (2020) posted about NASCAR nine times between the flying of the Confederate flag over Talladega on June 21 and the release of the noose photo on June 25. Bleacher Report (2020) added twelve NASCAR-related posts between June 21 and June 26, and Sports Illustrated (2020) covered support for Wallace and the outcome of the FBI investigation with four posts between June 22 and June 23.
Media coverage of Bubba Wallace and NASCAR expanded further on July 6 after U.S. President Donald Trump (2020) called out Wallace on Twitter, saying that he should apologize for the "hoax" while criticizing NASCAR's ratings following the Confederate flag ban, calling them the "lowest ratings EVER."
White House press secretary Kayleigh McEnany defended the president. "What the president is making is a broader point that this rush to judgment, before the facts are out, is not acceptable," she told Fox News' Sandra Smith on July 6 (Owens, 2020, para. 5). McEnany then compared Wallace's situation to that of Jussie Smollett, who was accused of staging a hate crime against himself in 2019 (Pereira, 2020). Jason Owens (2020) emphasizes the implications of this comparison, writing that "McEnany's Smollett comparison implies that Wallace and his team orchestrated the incident as a hate crime" (para. 9). Steve Phelps has emphasized from the beginning that Wallace's team had nothing to do with the noose. "I want to be clear about the 43 team: The 43 team had nothing to do with this" ("FBI says rope, 2020, para. 16), Phelps said on June 23.
The media came to the defense of Wallace and NASCAR after Trump's claims. In response to the president's claim that the noose was a hoax, Daniel Roberts (2020) responded, "There was no 'hoax'—the sport merely responded to what looked at first like a hate crime—and Wallace never saw or reported the noose; it was found and reported by a member of his team" (para. 2). Trump's claim that NASCAR's ratings are plummeting is also false. According to Michael Mulvihill, the sport's ratings on Fox networks are up 8 percent since its return from a shutdown caused by the coronavirus pandemic ("President Donald Trump," 2020). Saturday's Xfinity Series race at Indianapolis, broadcast on NBC, had the largest viewership for an Xfinity race at that location since 2017 with nearly 1.7 million viewers (Pereira, 2020). The rating for Sunday's Cup Series race was up 46 percent from last year's race at Indianapolis (McCarriston, 2020).
Wallace responded to the tweet with a message "To the next generation and little ones following my foot steps" (Pereira, 2020, para. 8).
"You will always have people testing you. Seeing if they can knock you off your pedestal. I encourage you to keep your head held high and walk proudly on the path you have chosen . . . Always deal with the hate being thrown at you with LOVE! Love over hate every day. Love should come naturally as people are TAUGHT to hate. Even when it's HATE from the POTUS… Love wins," Wallace (2020) wrote on his Twitter page.
Audio company Beats by Dre announced a personal partnership with Wallace that night, according to NASCAR ("Bubba Wallace lands," 2020). "We weren't going to announce this until later this week, but hate cannot win the day. No one should ever be asked to apologize for standing up for what's right — we are proud to welcome Bubba Wallace to the Beats by Dr. Dre family," the company wrote on Twitter announcing the partnership (Beats by Dre, 2020).
Fellow Cup Series driver Tyler Reddick responded to Trump in a since-deleted tweet, saying, "We don't need an apology. We did what was right and we will do just fine without your support" ("President Donald Trump," 2020, para. 5).
Kevin Harvick also backed up Wallace on Golic and Wingo (2020), saying that "a misinformed tweet is not gonna change the unity and the direction of our sport and our garage, and the way that we feel about each other."
Sen. Lindsey Graham (R-S.C.) agreed that Wallace had nothing to apologize for (Carney, 2020). "You saw the best in NASCAR," Graham said in a Fox News Radio interview with Brian Kilmeade. "When there was a chance that it was a threat against Bubba Wallace, they all rallied to Bubba's side. So I would be looking to celebrate that kind of attitude more than being worried about it being a hoax" (President Donald Trump," 2020, para. 15).
The praise of NASCAR's unity has been echoed since drivers and crews walked behind Wallace on June 22. Following the FBI investigation on June 23, Elijah Burke (2020) tweeted about how the findings shouldn't "overshadow yesterday's display of peace, love, and unity." NFL analyst Mike Clay (2020) responded, emphasizing that the show of support for Wallace was "important and necessary." The support of Wallace continued following the president's tweet with Richard Petty Motorsports (2020) tweeting a simple graphic with the number 43 and the hashtag #IStandWithBubba.
Wallace collected his third top ten finish of the season at Indianapolis on Sunday, placing ninth (Holleran, 2020). He currently leads fan voting for the upcoming All-Star Race, which will take place on July 15 at Bristol Motor Speedway (Stone, 2020). The next Cup Series race, the Quaker State 400, will take place at Kentucky Speedway on Sunday, July 12, at 2:30 PM ET.
References
AlanCavanna. (2020, June 9). Here is the car that @BubbaWallace will race at @MartinsvilleSwy [Tweet]. Retrieved from https://twitter.com/AlanCavanna/status/1270461614454702086?s=2020
A_kamara6. (2020, June 10). i love y'all @NASCAR [Tweet]. Retrieved from https://twitter.com/A_kamara6/status/1270841517616365569?s=20
BarrVisuals. (2020, June 22). @BubbaWallace gets a late race push from @CoreyLaJoieafter running out of fuel during a late race caution during the GEICO 500 at Talladega Superspeedway. #NASCAR [Tweet]. Retrieved from https://twitter.com/BarrVisuals/status/1275243933749084166?s=20
beatsbydre. (2020, July 6). We weren't going to announce this until later this week, but hate cannot win the day. No one should ever be asked to apologize for standing up for what's right — we are proud to welcome @bubbawallace to the Beats by Dr. Dre family. [Tweet]. Retrieved from https://twitter.com/beatsbydre/status/1280283245465071622?s=20
Blaney. (2020, June 22). You're my brother and always will be. Don't let the people who are lower than life to try and bring you down. They won't scare you because you're strong. I stand with you pal. Forever. [Tweet]. Retrieved from https://twitter.com/Blaney/status/1275054984732774401?s=20
Bleacher Report [bleacherreport]. (n.d). Posts [Instagram profile]. Retrieved from https://www.instagram.com/bleacherreport/
Bromberg, N. (2020, June 22). Drivers walk with Bubba Wallace's car to the starting grid, stand with Wallace for Talladega national anthem. Yahoo! Sports. https://sports.yahoo.com/drivers-walk-with-bubba-wallaces-car-to-the-starting-grid-stand-with-wallace-for-talladega-national-anthem-190522096.html
BubbaWallace. (2020, June 21). [Bubba Wallace statement following noose discovery] [Tweet]. Retrieved from https://twitter.com/BubbaWallace/status/1274898390288121861?s=20
BubbaWallace. (2020, July 6). Appreciate the warm welcome King! [Tweet]. Retrieved from https://twitter.com/BubbaWallace/status/1280287606593531909?s=20
Bubba Wallace lands personal partnership with Beats by Dre. (2020, July 7). NASCAR.com. https://www.nascar.com/news-media/2020/07/07/bubba-wallace-lands-personal-partnership-with-beats-by-dre/
Bubba Wallace: Nascar driver's defiant tweet over Trump's 'hate'. (2020, July 6). BBC News.https://www.bbc.com/news/world-us-canada-53315148
Bubba Wallace praises NASCAR's Confederate flag ban but one driver says he's quitting over the decision. (2020, June 11). CBS News. https://www.cbsnews.com/news/bubba-wallace-driver-nascar-confederate-flag-ban-black-lives-matter/
Carney, J. (2020, July 6). Lindsey Graham defends NASCAR, Bubba Wallace amid Trump criticism. The Hill.https://thehill.com/homenews/senate/506030-lindsey-graham-defends-nascar-bubba-wallace-amid-trump-criticism
Cramer, M. (2020, June 9). Bubba Wallace wants NASCAR to ban the Confederate flag. New York Times. https://www.nytimes.com/2020/06/09/sports/autoracing/bubba-wallace-nascar-confederate-flag.html
Crushboy31. (2020, June 8). Correction. I'm a fan and I'll be watching from here on out. [Tweet]. Retrieved from https://twitter.com/Crushboy31/status/1270194911036559364?s=20
Crushboy31. (2020, June 8). Honestly didn't know @NASCAR had a brotha. I'm watching @BubbaWallace for the rest of the year. I need to learn about this sport. [Tweet]. Retrieved from https://twitter.com/Crushboy31/status/1270188285655166977?s=20
DaleJr. (2020, June 22). Hope Bubba wins it tomorrow. [Tweet]. Retrieved from https://twitter.com/DaleJr/status/1274925802099019776?s=20
Doubek, J. (2020, June 12). NASCAR driver Bubba Wallace on Confederate flag ban: 'A long time coming.' NPR. https://www.npr.org/sections/live-updates-protests-for-racial-justice/2020/06/12/876347528/nascar-driver-bubba-wallace-on-confederate-flag-ban-a-long-time-coming
DougJones. (2020, June 22). We're with you Bubba. The journey to racial justice has taken far too long. Keep your eyes on @bubbawallace at Talladega, keep that racist's noose in your thoughts and ask: when will this end? Maybe Bubba can get us to that checkered flag a bit sooner. It's time America. [Tweet]. Retrieved from https://twitter.com/DougJones/status/1275071653781725188?s=20
ElijahWhosoever. (2020, June 23). Don't let today's findings overshadow yesterday's display of peace, love and unity. #NASCAR [Tweet]. Retrieved from https://twitter.com/ElijahWhosoever/status/1275551853632200705?s=20
Erik_Jones. (2020, June 22). I'm competing against @BubbaWallace on the racetrack today, but #IStandWithBubba every day. You come at him with ugliness, you're coming at all of us. [Tweet]. Retrieved from https://twitter.com/Erik_Jones/status/1275085641785671683?s=20
ESPN [espn]. (n.d). Posts [Instagram profile]. Retrieved from https://www.instagram.com/espn/
ESPNNFL. (2020, June 4). .@A_kamara6 rocking some @BubbaWallace gear on his way to his first-ever NASCAR race. Kamara live-tweeted a race on Wednesday, in direct response to the league banning the confederate flag and NASCAR extended him an invitation to Sunday's race. (via @NASCAR) [Tweet]. Retrieved from https://twitter.com/ESPNNFL/status/1272212295884640257?s=20
FBI says rope had been in Talladega garage since October; Bubba Wallace not victim of hate crime. (2020, June 23). ESPN. https://www.espn.com/racing/nascar/story/_/id/29354447/fbi-says-rope-had-talladega-garage-last-fall-bubba-wallace-not-victim-hate-crime
Fernandez, G. (2020, June 11). NASCAR driver Ray Ciccarelli says he's leaving at end of the season, citing disagreement with flag policy. CBS News. https://www.cbssports.com/nascar/news/nascar-driver-ray-ciccarelli-says-hes-leaving-at-end-of-the-season-citing-disagreement-with-flag/
Fryer, J. (2020, June 22). NASCAR rallies around Wallace as FBI investigates noose. Associated Press. https://apnews.com/af5f2437b470984c26d8acb6b66ac807
Gartland, D. (2020, June 10). Bubba Wallace to drive Black Lives Matter car at Wednesday's NASCAR race at Martinsville. Sports Illustrated. https://www.si.com/extra-mustard/2020/06/10/nascar-bubba-wallace-black-lives-matter-car-paint-martinsville
GolicAndWingo. (2020, July 7). "A misinformed tweet is not gonna change the unity and the direction of our sport and our garage, and the way that we feel about each other." -@KevinHarvick on the tweet that President Trump sent about NASCAR's ratings and Bubba Wallace. [Tweet]. Retrieved from https://twitter.com/GolicAndWingo/status/1280496766555742210?s=20
Holleran, A. (2020, July 6). NASCAR reporter's message for President Trump is going viral. The Spun.https://thespun.com/more/top-stories/nascar-reporter-trump-bubba-wallace-message
Kelly, G. (2020, June 12). NASCAR and the Confederate flag share a long history. A split has been in the works for decades. Naples Daily News. https://www.naplesnews.com/story/sports/motor/2020/06/12/nascar-confederate-flag-history-ban/3175265001/
KingJames. (2020, June 10). BIG S/O @BubbaWallace!! [Tweet]. Retrieved from https://twitter.com/KingJames/status/1270764380196462592?s=20
KingJames. (2020, June 21). Sickening! @BubbaWallace my brother! Know you don't stand alone! I'm right here with you as well as every other athlete. I just want to continue to say how proud I am of you for continuing to take a stand for change here in America and sports! @NASCAR I salute you as well! [Tweet]. Retrieved from https://twitter.com/KingJames/status/1274914521396604928?s=20
kylekuzma. (2020, June 21). .@BubbaWallace this is so powerful what you are doing with @NASCAR [Tweet]. Retrieved from https://twitter.com/kylekuzma/status/1274904037284954117?s=20
Macur, J. (2020, June 13). Bubba Wallace thankful for flag ban, but NASCAR's fans might not be. New York Times. https://www.nytimes.com/2020/06/13/sports/bubba-wallace-nascar-confederate-flag.html
Mathieu_Era. (2020, June 21). I stand with you champ [Tweet]. Retrieved from https://twitter.com/Mathieu_Era/status/1274916899613097987?s=20
McCarriston, S. (2020, July 6). Bubba Wallace, NASCAR respond to President Trump's claim that noose incident at Talladega was a 'hoax'. CBS Sports. https://www.cbssports.com/nascar/news/bubba-wallace-nascar-respond-to-president-trumps-claim-that-noose-incident-at-talladega-was-a-hoax/
MikeClayNFL. (2020, June 23). Yes! We're all glad the noose was a misunderstanding, but let's not pretend like racism is solved. The show of support for Bubba through all this (including Monday) was important and necessary. #IStandWithBubba [Tweet]. Retrieved from https://twitter.com/MikeClayNFL/status/1275552791654813696?s=20
NASCAR. (2020, June 10). [NASCAR statement following Confederate flag ban] [Tweet]. Retrieved from https://twitter.com/NASCAR/status/1270819350644211719?s=20
NASCAR. (2020, June 22). "I wanted to show whoever it was that you're not going to take away my smile." – @BubbaWallace [Tweet]. Retrieved from https://twitter.com/NASCAR/status/1275219352384688130?s=20
NASCAR. (2020, June 22). Together. #IStandWithBubba [Tweet]. Retrieved from https://twitter.com/NASCAR/status/1275142152725487617?s=20
NASCAR. (2020, June 23). [NASCAR statement following FBI investigation] [Tweet]. Retrieved from https://twitter.com/NASCAR/status/1275542920972689409?s=20
NASCARONFOX. (2020, June 22). .@BubbaWallace to the lead! [Tweet]. Retrieved from https://twitter.com/NASCARONFOX/status/1275207602591465473?s=20
NASCAR releases image of noose found in Bubba Wallace's garage, says concern was 'real'. (2020, June 25). ESPN. https://www.espn.com/racing/nascar/story/_/id/29364817/nascar-releases-image-noose-found-bubba-wallace-garage-says-concern-was-real
NASCAR stands with Bubba Wallace at Talladega: 'You're not gonna take away my smile'. (2020, June 22). FOX Sports. https://www.foxsports.com/nascar/story/bubba-wallace-noose-talladega-drivers-support-stand-with-062220
odsteve. (2020, June 22). No words [Tweet]. Retrieved from https://twitter.com/odsteve/status/1275137783477219329?s=20
Owens, J. (2020, July 6). Kayleigh McEnany inaccurately compares Bubba Wallace to Jussie Smollett in defending Trump's 'hoax' tweet. Yahoo! Sports. https://sports.yahoo.com/kayleigh-mc-enany-inaccurately-compares-bubba-wallace-to-jussie-smollett-in-defending-trumps-hoax-tweet-193532745.html
Pereira, I. (2020, July 6). Trump lashes out at Bubba Wallace, NASCAR over noose investigation, Confederate flag ban. ABC News. https://abcnews.go.com/Politics/trump-lashes-bubba-wallace-nascar-noose-investigation-confederate/story?id=71628914
President Donald Trump calls out Bubba Wallace, NASCAR in tweet. (2020, July 6). ESPN.https://www.espn.com/racing/nascar/story/_/id/29417259/president-donald-trump-calls-bubba-wallace-nascar-tweet
Rachel_Nichols. (2020, June 21). A few years ago @BubbaWallace was nice enough to take a couple minutes out to meet my family (they've been fans since he raced in the truck series). He's the only NASCAR driver they ever wanted to meet, and he couldn't have been kinder. We're rooting for you Bubba; all of us. [Tweet]. Retrieved from https://twitter.com/Rachel__Nichols/status/1274926710643781632?s=20
realDonaldTrump. (2020, July 6). Has @BubbaWallace apologized to all of those great NASCAR drivers & officials who came to his aid, stood by his side, & were willing to sacrifice everything for him, only to find out that the whole thing was just another HOAX? That & Flag decision has caused lowest ratings EVER! [Tweet]. Retrieved from https://twitter.com/realDonaldTrump/status/1280117571874951170?s=20
Roberts, D. (2020, July 6). Trump is wrong about NASCAR TV ratings. Yahoo! Finance.https://finance.yahoo.com/news/trump-is-wrong-about-nascar-tv-ratings-175246829.html
Rosenblatt, K. (2020, June 24). Bubba Wallace 'relieved' by FBI finding no crime in noose but frustrated by reaction. NBC News. https://www.nbcnews.com/news/us-news/bubba-wallace-says-relieved-fbi-finding-no-crime-noose-frustrated-n1231968
RPMotorsports. (2020, July 6). [Richard Petty Motorsports 43 graphic with #IStandWithBubba] [Tweet]. Retrieved from https://twitter.com/RPMotorsports/status/1280205752662179840?s=20
SiriusXMNASCAR. (2020, June 25). #NASCAR has released the photo of the noose found in the No. 43 garage stall at Talladega Superspeedway on Sunday afternoon. (Photo Credit: NASCAR) [Tweet]. Retrieved from https://twitter.com/SiriusXMNASCAR/status/1276188868551806976?s=20
Sports Illustrated [sportsillustrated]. (n.d). Posts [Instagram profile]. Retrieved from https://www.instagram.com/sportsillustrated/
Stone, A. (2020, July 7). Bubba Wallace is leading the fan vote for the NASCAR All-Star Race. The Charlotte Observer. https://www.charlotteobserver.com/sports/nascar-auto-racing/article244047507.html