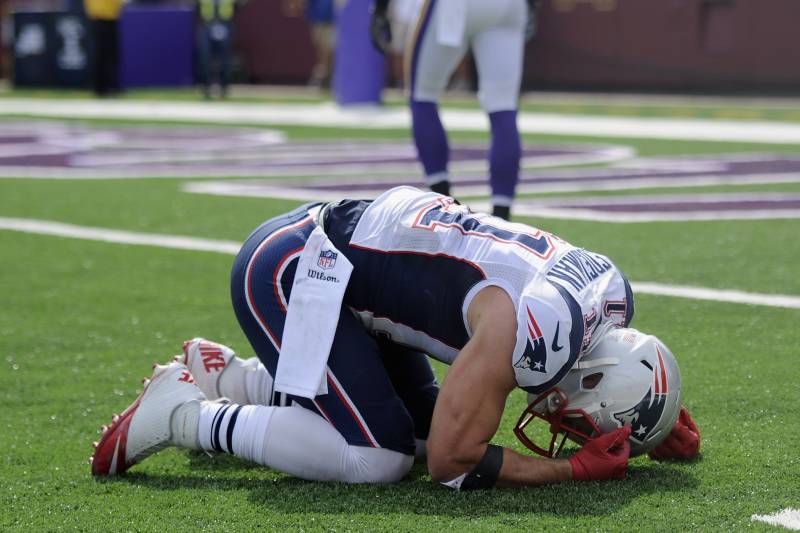 By Ben Kelley
November 25, 2019
Ben is a first-year undergraduate BGSU student from Uniontown, Ohio. He is a sport management major and a journalism minor. His primary interests include professional and collegiate football.
The New England Patriots are desperate to get some sort of offensive consistency. Despite quarterback Tom Brady's undisputed ability to throw the football, the Patriots have struggled to get players who can catch the football. The instability has meant that there's a different set of receivers available to Brady each week, and the instability is seemingly growing.
At the beginning of the season, the Patriots lined up former Pro-Bowlers Antonio Brown, Josh Gordon, Demaryius Thomas, and Julian Edelman at the wide receiver position. By Halloween, Brown and Gordon were cut, Thomas was traded, Mohamed Sanu was acquired from the Atlanta Falcons, and two undrafted rookie receivers – Jakobi Meyers and Gunner Olszewski – were being thrust onto the field. Receiver Philip Dorsett has offered consistency; however, he's currently nursing a concussion while Sanu faces an ankle injury (Mason, 2019). Olszewski's season has ended due to injury, and rookie N'Keal Harry was recently thrown into the mix (Cox, 2019). In short, only one wide receiver has been available to Brady each week – Julian Edelman. Edelman has capitalized on the opportunity, with 112 targets, 76 receptions, 809 receiving yards, 4 touchdown catches, one touchdown pass, and 15 passing yards in twelve games ("Julian Edelman," 2019).
Antonio Brown, on the other hand, has only played one game in 2019. ("Antonio Brown," 2019). His season has been engulfed with drama-infused antics – including sexual assault charges. The NFL swiftly hit Brown with an investigation, and after his release from New England, NFL teams have avoided signing Brown. However, Brown is showing optimism that the investigation is siding in his favor. On November 19th, Brown posted an apology on social media to the Patriots organization for the drama he brought to the team. By November 21st, rumors started swirling that the Patriots are doing their due diligence on Brown, with the team possibly exploring bringing back a much-needed familiar face (Williams, 2019).
Brown's possible return is already being labeled as the answer to Tom Brady's growing frustrations with the offensive struggles. Against the Philadelphia Eagles last week, the Patriots had to rely on field goals, a trick pass from Edelman, and a stout defense to win the game with a score of 17-10. After the game, Brady kept his press conference short and concise, with the media claiming that the addition of generational talent Antonio Brown would clearly help ease Brady's frustrations (Brinson, 2019). However, the possible addition of Brown should not be looked at as a move for the sake of Tom Brady. It should be viewed as an addition for the sake of Julian Edelman.
Edelman arguably needs Brown more than Brady does. Edelman is currently on pace for around 100 receptions this season, and at 33 years old, he needs some relief ("Julian Edelman," 2019). Aside from Edelman's heavy workload this year, he was also nursing a minor shoulder injury ahead of the Patriot's contest against the Dallas Cowboys (Mason, 2019). If Edelman suffers a more serious injury, the Patriots would be forced to get creative with moving the ball down the field at a time when the team already struggles with doing so. A deep playoff run without Edelman's skill set or experience would certainly hurt the Patriots and possibly frustrate Brady even further. Adding in Antonio Brown would help relieve the pressure being put on Edelman and give the Patriots – and the defenses they face – a second receiver to focus on.
References
Antonio Brown. (2019). Pro Football Reference. Retrieved from https://www.pro-football-reference.com/players/B/BrowAn04.htm
Brinson, Will. (2019, November 19). Antonio Brown rumors: Everyone thinks WR coming back to Patriots after Brown apologizes to Robert Kraft. CBS Sports. Retrieved from https://www.cbssports.com/nfl/news/antonio-brown-rumors-everyone-thinks-wr-coming-back-to-patriots-after-brown-apologizes-to-robert-kraft/
Cox, Z. (2019, November 19). NFL rumors: Patriots plan to place Gunner Olszewski on IR to add Isaiah Wynn. NESN. Retrieved from https://nesn.com/2019/11/nfl-rumors-patriots-expected-to-place-gunner-olszewski-on-ir-to-add-isaiah-wynn/
Julian Edelman. (2019). Pro Football Reference. Retrieved from https://www.pro-football-reference.com/players/E/EdelJu00.htm
Mason, C. (2019, November 20). Julian Edelman returns to injury report, Phillip Dorsett and Mohamed Sanu didn't participate in New England Patriots practice. Mass Live. Retrieved from https://www.masslive.com/patriots/2019/11/julian-edelman-returns-to-injury-report-phillip-dorsett-and-mohamed-sanu-didnt-participate-in-new-england-patriots-practice.html
Williams, C. (2019, November 21). Report: Patriots have "kicked the tires" on Antonio Brown. Pro Football Talk. Retrieved from https://profootballtalk.nbcsports.com/2019/11/21/report-patriots-have-kicked-the-tires-on-antonio-brown/