By: Brody Hickle
July 31, 2020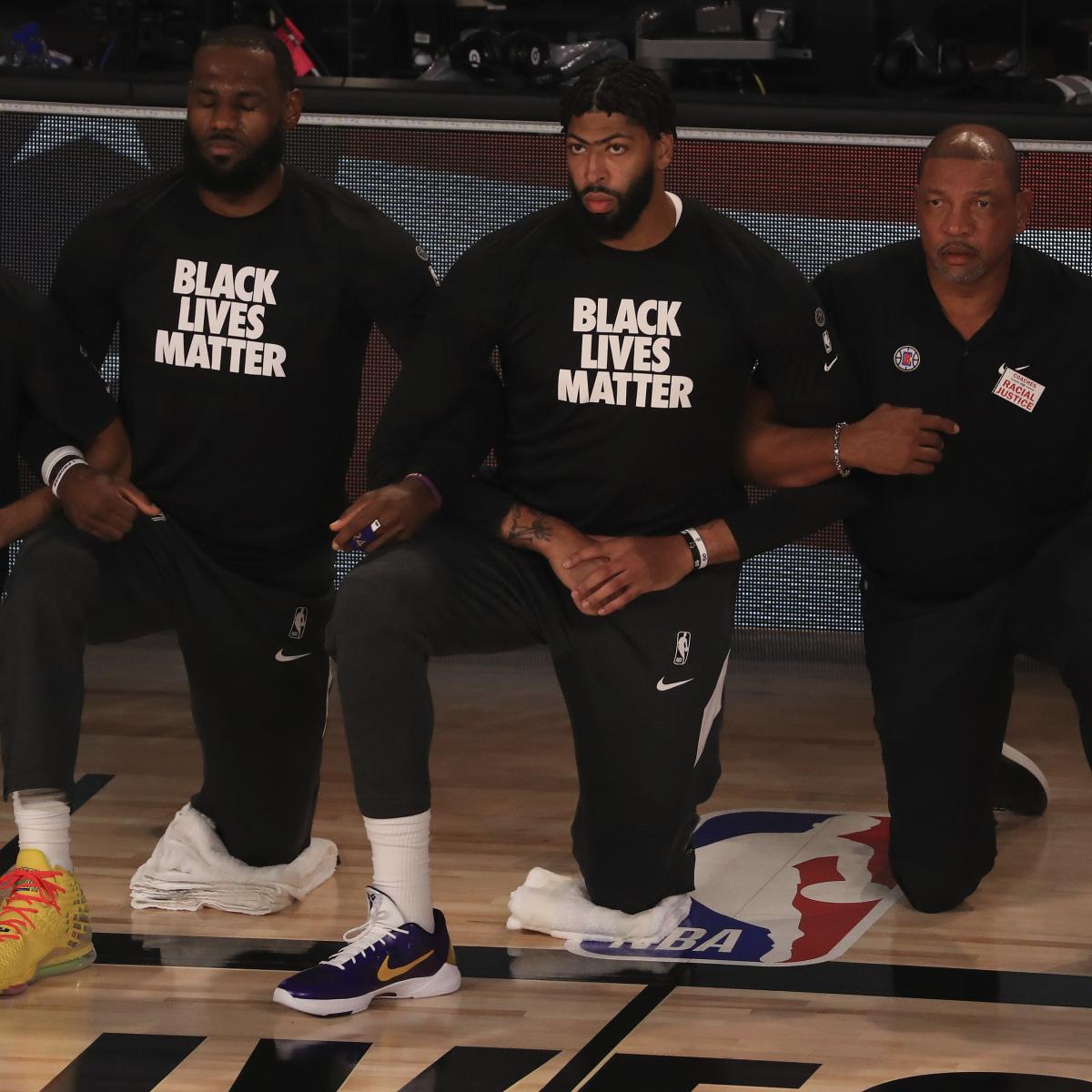 Brody Hickle grew up in Bluffton, Ohio and now studies Sport Management at Bowling Green State University. The third-year undergraduate student minors in General Business. His primary sport interests are hockey and football.
Everybody remembers their favorite moment in sports entertainment. Whether it would be your favorite team winning the championship of your favorite sport, seeing a walk-off hit in baseball, or anything else for that matter. On July 30, 2020, the New Orleans Pelicans took on the Utah Jazz for their first game since the suspension of the National Basketball Association due to the coronavirus. Before the game started, they played the National Anthem (The Star-Spangled Banner), just like before every sporting event. In that moment, I got to witness what I would judge to be, the most amazing thing I have ever seen in sports. Every player put their arm around each other and took a knee to show support for the Black Lives Matter movement. Seeing the emotions from the players combined with the music was really eye opening. Here is the video, which was posted by the NBA.
Because of recent happenings with police brutality against African Americans and the realization that systematic racism remains in America, I have strongly supported the Black Lives Matter movement. It all started with the tragic death of George Floyd. Shortly after his death, we started seeing many protests around the country, and there were also many riots.* These protests are still going around the country today. I will say that these protests have really opened my eyes. I will admit that at first, I was a little skeptical about the riots, but after doing my own research around the civil rights movement in history, I started getting a better understanding of the riots.
We all can remember the former civil rights leader, Dr. Martin Luther King Jr. I believe that when some think about these riots, we may wonder, "Why can't we be peaceful?" I thought that at first, but one of my friends who participated in my college drumline, reminded me that he was shot and killed in the end, after what he accomplished from the changes he made. From there, I realized that I am a privileged citizen in the United States, and that changes need to be made in this country. I came across this video that provides an experiment with white and African American citizens in the United States. The article by Korin Miller shows compelling evidence of privilege in the United States.
The Pelicans and Jazz are not the only times we have seen kneeling for the National Anthem. We remember when former star 49ers quarterback, Colin Kaepernick first sat down during the National Anthem, and he was criticized for it. Eventually, he met with a soldier by the name of Nate Boyer who would convince him to kneel instead of sit. I would later come across an article that explains the meaning behind kneeling for the National Anthem, as follows, "Kneeling is almost always deployed as a sign of deference and respect" (Smith & Keltner, 2017, para. 6). Another quote from the article states, "In some situations, kneeling can be seen as a request for protection – which is completely appropriate in Kaepernick's case, given the motive of his protest" (Smith & Keltner, 2017, para. 7).
If you get a chance to read this article, you can really get a better understanding about the meaning of kneeling, as it is used to protest. When we think about Kaepernick's situation, it cost his career; however, since the recent tragic events, it seems he is changing the world now. I totally agree that he is. The freedom to kneel, stand up, speak out, or sit down for a cause is everything for which this country stands. Many Americans fought for these ideals and sacrificed greatly for our country.  
Often, others may disagree with supporting the Black Lives Matter movement for reasons such as the riots, or they may think that everything is already equal. But we can tell that is not true. For example, Breanna Taylor who was an EMT, was shot by police during a no-knock search warrant, while she was sleeping. The main target of the police was to arrest her husband, who fired a gun at the police when they entered the apartment. The police returned fire, and unleashed 20 rounds on the innocent Breanna Taylor.
Based upon the above links that I have shared and statements that I have made, I hope everyone gets a better understanding of the meaning of kneeling for the National Anthem, and how it is used as a protest. Changes need to be made. We cannot say "All lives Matter," until we can all see that Black Lives Matter.
References:
Miller, K. (2020, June 3). As a video about white privilege goes viral again, experts caution it could actually cause more damage. MSN.com. Retrieved from: https://www.msn.com/en-us/finance/other/as-a-video-about-white-privilege-goes-viral-again-experts-caution-it-could-actually-cause-more-damage/ar-BB14Z7EB
National Basketball Association. (2020, July 30). YouTube. Retrieved from https://www.youtube.com/watch?v=G-PDAiIKDPA
Smith, J.A., & Keltner, D. (2017, September 29). The psychology of taking a knee. Scientific American. Retrieved from: https://blogs.scientificamerican.com/voices/the-psychology-of-taking-a-knee/
*Editor's Note: some refer to them as 'uprisings' instead of riots.