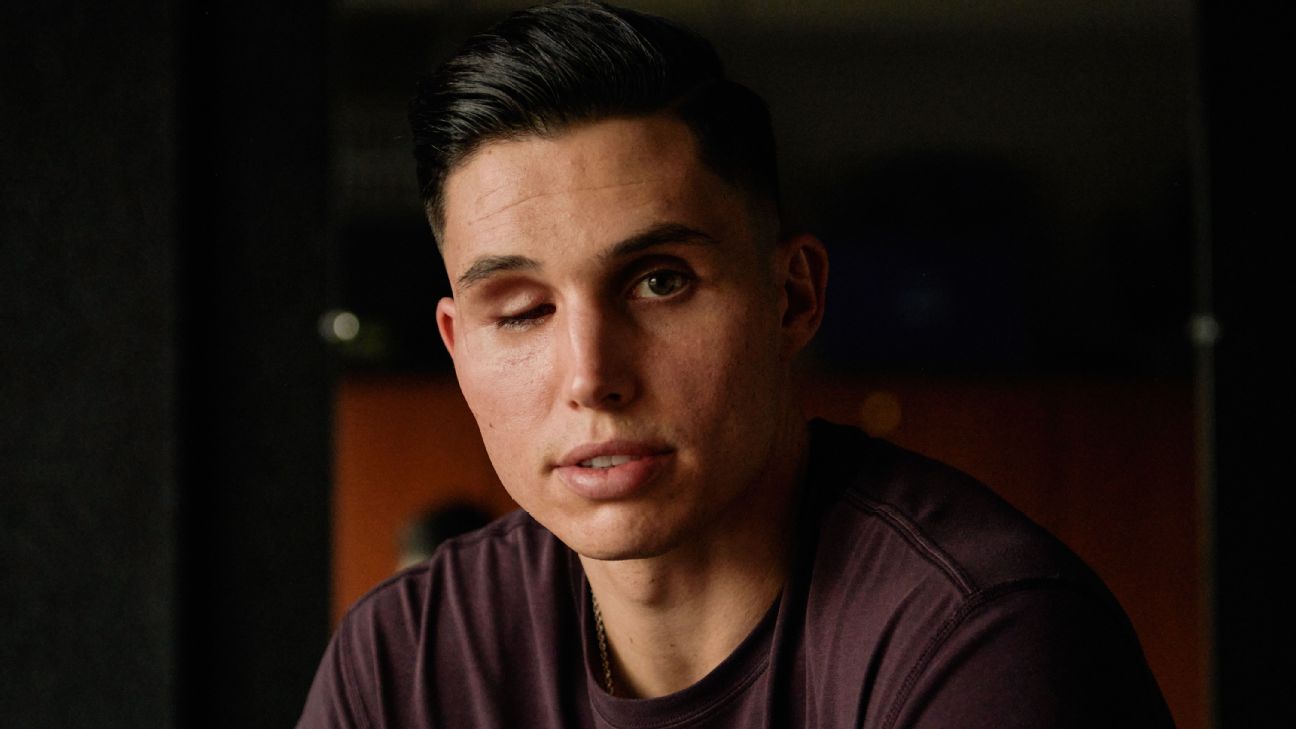 By Griffin Olah
Griffin is a third-year undergraduate BGSU student from North Ridgeville, Ohio. He is a Sport Management major and a Journalism minor. His primary sports interests are baseball and football, both collegiate and professional, but he is also interested in basketball, MMA, boxing and hockey.
February 17, 2021
This entry contains material and descriptions of depression and suicide. If you or a loved one are experiencing depression, emotional distress or thoughts of harming your/themselves, you/they are not alone. Help is available. Contact a mental health professional or the National Suicide Prevention Hotline at 1-800-273-TALK (8255) or suicidepreventionlifeline.org to get the help you/they deserve and need.
"I hate myself" (Passan, 2021, para. 94).
These were the words that San Francisco Giants outfielder Drew Robinson spoke to paramedics as they arrived at his house on April 17, 2020. Three simple words. Apparently, they were enough to make sense of everything he had been feeling.
Drew Robinson might not be a name that you know. He's played 100 career games at the major league level over the past three years, the first two with the Texas Rangers and the third with the St. Louis Cardinals ("Drew Robinson," 2021b). He was signed by the San Francisco Giants to convert from infield to outfield before the 2020 season, but he never saw the field in the pandemic shortened season – and April 16, 2020 is the main reason for that (Passan, 2021).
Andrelton Simmons, on the other hand, is a name you might know. Simmons, a four-time Gold Glove winner with a Platinum Glove also in his trophy case, has spent nine years in the big leagues with the Atlanta Braves and Los Angeles Angels with great success. He is regarded as one of the best defenders in MLB and has received MVP votes three times in his career (2013, 2017 and 2018), with an eighth place finish as his highest ("Andrelton Simmons," 2021a). 
So, what connects one of the top defenders in the game to a utility player bouncing between the majors and AAA? The answer: depression and thoughts of suicide.
A day before Drew Robinson called the paramedics, he sat at his kitchen table and wrote. To anyone gazing in, this seems like a normal event. Sure, most baseball players don't write on the side, but it seems like a simple task. Robinson finished whatever it was he was writing and moved throughout the house, cleaning as he went. He set about making the house as clean as possible. Then, he sat on the couch (Passan, 2021).
Andrelton Simmons was reaching the end of his age-30 season in the pandemic-shortened 2020 season. The Angels were on the outside of the playoffs looking in, and with one week left in the season, there was a small chance that they could make the postseason. Simmons was enjoying an offensive resurgence in the 30 games he played – he had a .297 batting average and a .702 OPS that were his highest since finishing 15th in the 2018 MVP voting ("Andrelton Simmons," 2021a). In September, Simmons shocked the Angels and opted out of that final week. He didn't speak to the media until January 31 at his introductory press conference after signing a one year, $10.5 million deal to be the shortstop of the Minnesota Twins. He declined to answer any questions about his opt-out (Fletcher, 2021).
As with the writing, everything that Robinson did leading up to sitting on the couch was normal. People write everyday. Cleaning is not something that should raise red flags. Everything on the outside was normal and peaceful. Simmons was playing the sport he loved and playing it well. Everything seemed okay on the outside until his opt-out raised eyebrows across the league. Each one of these players had one of the toughest decisions in human life to make, and they made it.
Simmons' decision was much less dramatic, but produced more stories at the time. He initially cited "COVID-19 concerns" for his opt-out, which caught manager Joe Maddon off guard (Torres, 2020, para. 1). Simmons then released a statement to the local media thanking the Angels organization for his time in Los Angeles, and then rode off into the sunset, not to be heard from until his Twins press conference (Torres, 2020).
Robinson's decision, however, was complex and had multiple parts to it. The first was on that couch. Before looking at that, however, we need to look back at what Drew Robinson wrote at his kitchen table. A normally mundane activity like writing took massive meaning here. Robinson wrote a suicide note (Passan, 2021).
Back on the couch, Drew Robinson, at 8 p.m. on April 16, 2020, pressed a handgun to his head and pulled the trigger (Passan, 2021).
A few hours later, Robinson woke up, a hole in his head from the bullet. For the next 20 hours, Robinson sat alone in his house, trying to cope with the idea that he was still alive. Once those 20 hours came to a close, he sat down on his couch, the gun in one hand and a phone dialed to 911 in the other. He had a choice to make: life or death. Drew Robinson chose life (Passan, 2021).
Until recently, depression and mental illness were taboo subjects. Even now, stereotypes and misinformation about mental illness run rampant while facts stay in the dark. There was no reason for any athlete to suffer from mental illness, let alone mention it publicly. Success was supposed to make people happy. Money was supposed to solve problems. So, why would someone that successful and with that much money playing the game they love suffer from mental illness?
The 'Superman mentality' of athletes took a sharp change when stars like Jerry West, Brandon Marshall and Michael Phelps went public with their struggles with depression (Gleeson & Brady, 2017). If athletes of their caliber could suffer from the same mental health problems that affect one in five American adults, then how many other athletes are affected ("Mental illness," 2021)? The only problem here is that retired athletes were the ones coming out. What about those that are playing now?
The next year, in 2018, NBA stars Kevin Love and DeMar DeRozan went public with their mental health struggles: DeRozan with depression and Love with anxiety. Kevin Love even went as far as saying "everyone is going through something we can't see" when talking about his own struggles with asking for help and his panic attacks (2018, para. 30). More stars followed, including Dak Prescott of the Dallas Cowboys (Epstein, 2020). Finally, mental illness in professional athletes was in the public eye. It was okay to not be okay. Or, so it seemed.
Even though all of those athletes went public with their struggles, nothing changed. They still played at a high level on the field. They still engaged with the media at the same level they did before. Commercials, TV spots and other ads never halted. Even though they bared their minds and their souls, nothing changed. Enter two baseball players of different playing levels: Drew Robinson and Andrelton Simmons.
Simmons opted out of the season because of his depression, as he later told the Southern California News Group through Twitter Direct Messages (Fletcher, 2021). For the first time, depression was visibly impacting an athlete's performance. Drew Robinson is still struggling with the aftermath of what happened to him in April. He lost his right eye in the attempt. After countless surgeries to repair the eye socket and ensure his brain was fully intact and functioning, Robinson is attempting a comeback to baseball's highest level. The San Francisco Giants, his employer at the time in April, signed him to a contract extension to give him a full chance at returning to baseball (Passan, 2021). These effects on both players' careers may be the next turning point.
As for the media, this is an incredibly hard topic to cover. Even writing this entry, I've had some difficulties on how to say things and how to represent what happened. But, the media has been doing a great job leading the charge to destroy the stigma of mental health. ESPN ran the Drew Robinson story as their feature in early February. Andrelton Simmons' story garnered headlines across the nation as he revealed his struggles with mental health last season. This attention, while it may lead to triggers to some viewers, is erasing the stigma of mental illness. It's okay not to be okay, and these athletes are reinforcing that idea by sharing their own stories for all to hear.
Even more important than that exposure, though, is the content of these articles and stories. None of the articles that I've come across in my own time and in the research for this entry have expressed the athlete's mental health in a negative light. In fact, any negative views disappeared after Dak Prescott revealed his struggles with mental illness, which Skip Bayless called a sign of weakness and said he "ha[d] no sympathy" for Prescott (Gardner, 2020, para. 6). Bayless's comments were denounced by his employer, Fox Sports, as well as athletes and media members across the nation, and the stigma surrounding mental illness became something the sports world looked to erase (Gardner, 2020). Jeff Passan's recounting of Drew Robinson's story, while graphic, is an important step to humanizing the problem. The in-depth look at Robinson's experience, how it affected his family, and how he felt leading up to April 16 may open the eyes of some viewers. It may even encourage them to seek help. It may help readers pick up on signs that a friend, colleague or family member is also struggling. That is what needs to happen to get everyone the help they need.
Most importantly, though, was how Passan ended his piece; with hope. Hope that Robinson can make his way back to the majors. Hope that the stigma is being erased. Hope that Robinson's story can affect others positively. Hope that everyone can come together and help each other, so everyone knows that no matter what they're going through, they're not alone.
After all, in the words of Drew Robinson, "I'm meant to be alive" (Passan, 2021, para. 114). You are, too!
References
Andrelton Simmons. (2021a). Baseball Reference. https://www.baseball-reference.com/players/s/simmoan01.shtml
Drew Robinson. (2021b). Baseball Reference. https://www.baseball-reference.com/players/r/robindr01.shtml
Epstein, J. (2020, September 10). Dallas Cowboys QB Dak Prescott on why he opened up on depression, brother's suicide: 'Being a leader is about being genuine.' USA Today. https://www.usatoday.com/story/sports/nfl/cowboys/2020/09/10/dak-prescott-dallas-cowboys-depression-brother-jace/3460645001/
Fletcher, J. (2021. February 2). Andrelton Simmons opens up about depression and thoughts of suicide. The Orange County Register. https://www.ocregister.com/2021/02/02/andrelton-simmons-opens-up-about-depression-and-thoughts-of-suicide/ 
Gardner, S. (2020, September 10). Fox Sports calls out Skip Bayless for 'insensitive comments' about Dak Prescott.' USA Today. https://www.usatoday.com/story/sports/nfl/cowboys/2020/09/10/skip-bayless-fox-sports-criticizes-cowboys-dak-prescott-revealing-depression/3461207001/
Gleeson, S. & Brady, E. (2017, August 30). When athletes share their battles with mental illness. USA Today. https://www.usatoday.com/story/sports/2017/08/30/michael-phelps-brandon-marshall-mental-health-battles-royce-white-jerry-west/596857001/ 
Love, K. (2018, March 6). Everyone is going through something. The Players' Tribune. https://www.theplayerstribune.com/articles/kevin-love-everyone-is-going-through-something
Mental illness. (2021). National Institute of Mental Health. https://www.nimh.nih.gov/health/statistics/mental-illness.shtml#:~:text=Mental%20illnesses%20are%20common%20in,mild%20to%20moderate%20to%20severe
Passan, J. (2021, February 2). San Francisco Giants outfielder Drew Robinson's remarkable second act. ESPN. https://www.espn.com/mlb/story/_/id/30800732/san-francisco-giants-outfielder-drew-robinson-remarkable-second-act 
Torres, M. (2020, September 22). Angels shortstop Andrelton Simmons opts out of playing the rest of the season. Los Angeles Times. https://www.latimes.com/sports/angels/story/2020-09-22/angels-shortstop-andrelton-simmons-opts-out-of-playing-rest-of-season