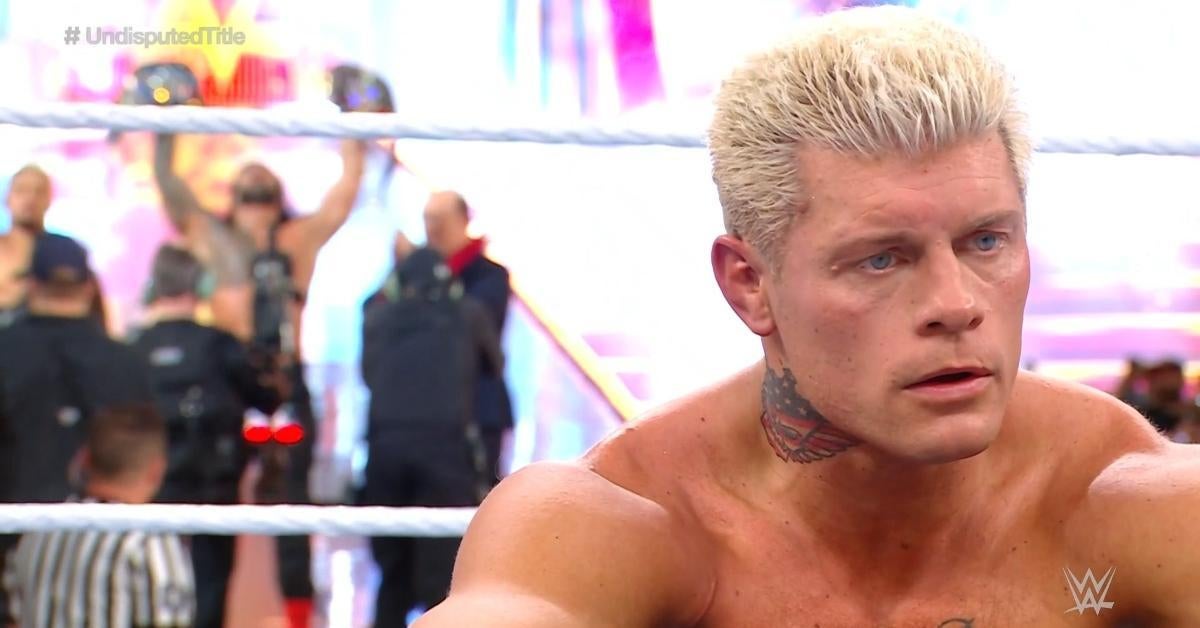 By Kalen Lumpkins
Kalen is a fourth year BGSU student from Toledo, Ohio. He is a sports management major with a minor in journalism. His primary sport interests include football and tennis, but he also has an interest in a wide variety in other sports, from baseball to hockey. His dream job outside of college is to be a sportswriter for an organization like ESPN or Sports Illustrated.
April 3, 2023
WrestleMania 39 was stunning from start to finish. From Austin Theory pinning his idol John Cena to Gunther surviving a brutal chop-fest against Sheamus and Drew McIntyre, the fans in attendance were wowed nonstop through both nights.
The main story of this year's Showcase of Immortals was the conflict in the Bloodline. The first night ended with Sami Zayn hitting Jey Uso with three Helluva Kicks to make Zayn and Kevin Owens the undisputed tag team champions.
After the Usos' 619-day tag team title reign ended, all eyes were locked on the second night's main event, where Roman Reigns and Cody Rhodes would finally come face-to-face for the undisputed WWE universal championship.
Since winning the 2023 Royal Rumble, the expectation was that the American Nightmare would dethrone Reigns, finishing his story and finally engraving the Rhodes' name into the top prize in WWE. Furthermore, the fans at SoFi Stadium were eager to see what they had been waiting for:
'This is it; WWE's final boss goes down. Tonight's the night Roman loses and the Bloodline ends.' Many of the viewers thought.
Instead, it was Goliath that emerged from the smoke.
The Tribal Chief speared Rhodes, went for the cover, and the referee counted to three. The silent shock of the crowd at SoFi Stadium after the count will tell a better story than anyone ever could.
Roman Reigns shattered the WrestleMania dream of Cody Rhodes and walked out of the arena, still on top of the world with championships in both hands.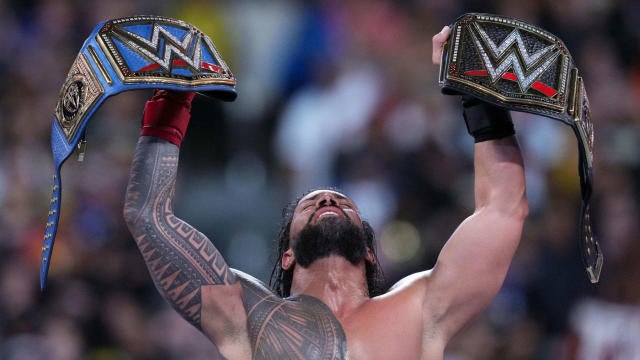 After the reality of what happened finally hit the viewers, there were two consistent responses: 'Why did this happen?!' or 'Acknowledge him!' This split is something we have not seen since Brock Lesnar ended the Undertaker's streak.
The split is getting heated, and both arguments are valid. Here are some of the points that could be made.
THIS WAS THE RIGHT CALL BECAUSE…
The Bloodline's story is not over
Since Rhodes returned to WWE at WrestleMania 38, he had been unstoppable. An incredible feud with Seth Rollins solidified that the American Nightmare had everything it takes to be the top babyface of the company.
Rhodes vs. Roman was always the endgame, but a torn pec suffered by the returning star could very well have derailed these initial plans. When Rhodes returned, he showed the cracks that existed in the Bloodline and went out to open these cracks further.
However, after the Usos super kicked Rhodes midway through the WrestleMania match, this meant that the Usos are not sold on leaving Reigns just yet. Neither is Solo Sikoa, who interfered at the end to give Reigns the victory.
If Rhodes would have prevailed, this would have created confusion in the Bloodline story. At this rate, the group must fall apart before Reigns is defeated, as it would signal how the family's bond has lifted them to new heights before disbandment.
The Reigns vs. Rhodes rivalry is not over just yet, so the challenger will still have a chance to get into the heads of the supergroup. It will be interesting to see how the Raw and Smackdown after Mania plays out, but there are still plenty of stories to tell.
Cody's story is not over, either
Cody Rhodes was on a roll when he returned to WWE. Having won every single match since his comeback, he seemed to be the next guy up.
In his verbal altercations with Solo Sikoa, he always told him that he was not ready, that he is not there just yet. After his Mania loss, though, Cody Rhodes had questions to ask himself.
Could he be questioning if he is ready for the moment? Or wondering if he lets the Rhodes family down?
These are hurdles that Rhodes will have to overcome if he truly wants to finish his story. The loss at the grandest stage of them all could set up a story of Rhodes's pursuit of maturity and redemption against Reigns.
A story like this could set up a victory that could potentially be sweeter than a WrestleMania win for the American Nightmare.
1000 days!
At the time of writing this, Roman Reigns has held the universal championship for 946 days. He won the WWE championship from Brock Lesnar last year, so he has held both titles for a year now.
The title reign (pun intended) has been a memorable one for the Tribal Chief, as he has carried the brand on his back for over three years. There is not anyone on the current roster that will be able to replicate this.
It is also unlikely that Reigns loses the titles before SummerSlam, which is on Aug. 5, so 1000 days seem inevitable.
The thousand-day mark will be a repayment for all that Reigns has done, while also being an accomplishment we may never see again.
THIS WAS THE WRONG CALL BECAUSE…
Who's going to beat Roman now?
Here is a list of the wrestlers that Roman Reigns defeated to defend his Universal title:
Jey Uso (twice)
Braun Strowman
Kevin Owens (four times)
Bryan Danielson, formerly Daniel Bryan (four times)
Edge (twice)
Rey Mysterio
Cesaro
John Cena
Finn Balor (twice)
Brock Lesnar (three times)
Sami Zayn (twice)
*Seth Rollins (Reigns lost by DQ, but kept his championships)
Goldberg
Matt Riddle
Drew McIntyre
Logan Paul
Cody Rhodes
Insane.
As of right now, Cody Rhodes is the logical choice to dethrone Reigns, but what if he loses again? The Tribal Chief has run through most of the legitimate threats on the roster, so there is a small number of remaining stars that will be a believable roadblock.
Gunther's name has been thrown around, as well as Jey Uso being the one, so the Bloodline story comes to a full circle. The reality, however, is that time is running out on the freshness of the undisputed universal title run, and overstaying its welcome will be a sad sight to see.
Every title match is still predictable
No matter how we view Roman Reigns, we can agree that the same tropes have been used too much. Normal 1-on-1 match until the referee takes a bump, the Usos and/or Solo Sikoa interferes and Roman prevails.
Now it is reasonable, Reigns is supposed to keep the heel energy. However, doing the same thing for over a year is bound to get tiresome for most of the viewers, Roman fan or not.
Furthermore, Reigns needing help every match could also delegitimize his case for being the greatest wrestler ever. Yes, others have done this all the time, Edge being the main one, but this does not fit into the unstoppable Tribal Chief Roman Reigns character.
A clean win vs Rhodes at Mania would have put the thought in the viewer's mind that no one can beat Reigns. Then, a future Reigns loss would create one of the greatest championship wins for the opposing superstar ever.
Unfortunately, we got the same interference-filled finish that we have seen countless times. It is time to let these types of endings go for the Bloodline.
We don't want a part-time champion!
The biggest flaw of this Roman Reigns title run is the appearance of the Tribal Chief, or lack thereof. This was the problem when Brock Lesnar held the titles around WrestleMania 37, as well.
In many people's eyes, they think that Reigns is holding the titles hostage, and that creates a problem all around. Mainly, it takes a toll on attempting to create more main-event-level stars.
WWE is trying to create more talent by pushing people like Brunson Reed, LA Knight and Gable. When there is not a title to go after when Reigns is gone, though, it leaves the weekly shows in a stalemate.
This is a problem that WWE has been trying to figure out for some time now, and it may not be solved until Roman Reigns loses the titles.
There are fair points that can be made for both sides of the split reaction to the Roman Reigns win. One certain thing, however, is that only time will tell.